The Wall Drug Store at Wall, South Dakota. This busi-
ness was started by Ted and Dorthy Hustead in 1931.
Ted and Dorothy still operate the business. Some of the
free attractions for the tourists are the life size animated
Cowboy Orchestra, the life size animated Chuck Wagon
Quartette, the bucking horse, covered wagon, 6 foot
rabbit, stuffed, buffalo, stuffed.
Color photo by Bill Hustead, a Wall Drug Photograph
Pub. by Dan Grigg Enterprises, Mitchell, South Dakota
Made by Dexter, West Nyack, N. Y.
35722-B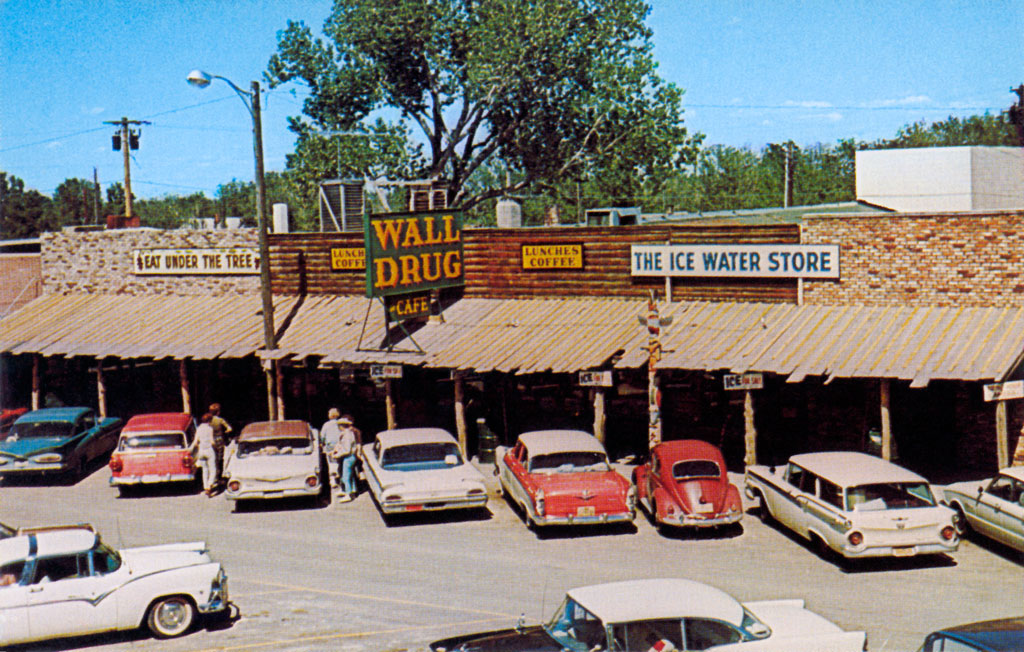 America's Favorite Roadside Attraction!
Free Admission to this 76,000 square foot wonderland of free attractions!
Wall Drug Store
510 Main St
Wall, SD 57790
(605) 279-2175
www.walldrug.com
Scanning, digitally cleaning and enhancing all these postcards,
locating, adding street and map view, and running this site costs a great deal
so won't you please consider making a donation.
Doing so is fast, safe, and easy through PayPal's online service.
Or, simpler, click on an advertisement banner every so now and then ;).