The St. John Gate, La Porte St Jean
Quebec, P. Q. Canada
Old Quebec is a walled city and the St. John Gate
is one of the three remaining entrances to the
Old City.
Le vieux Quebéc état autrefois entoure d'un mur,
Lat Porte St. Jean est l'une des trois entrées encore
existantes sur les 6 originalement construites.
Plastichrome by Colourpicture Publishers, Inc., Boston 15, Mass., U.S.A.
Published by Provincial News Co., Quebec, P. Q., Canada
P28151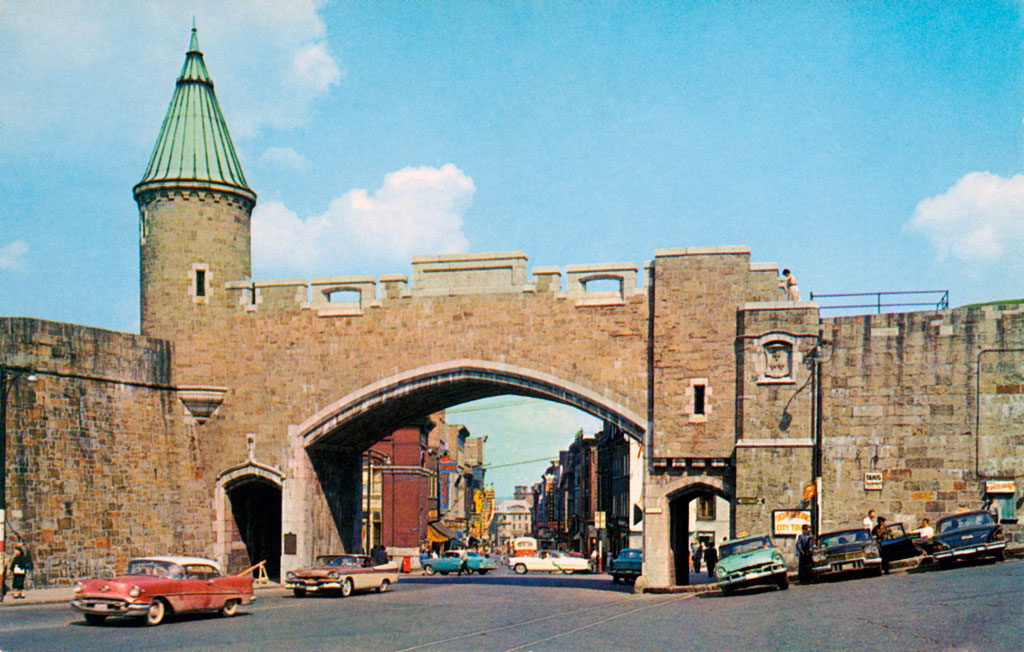 The 1957 Dodge Custom Royal Lancer shown here in this postcard is still in existence!
The current owner knew of this postcard when he was told this might be his car,
and he said the former (and original) owner had the postcard and said that he was at the wheel
and the lady in the back seat is his sister.
The car was originally owned by a Mr. Falardeau, owner of a Bicycle shop in Quebec City.
He had ordered the car from the dealer brand new, and to his specs. This car was his pride and joy,
and he kept it clean and well maintaned throughout his ownership.
From the start in 1957, and then every year after that, Mr. Falardeau had some small bits and pieces
dismantled and chromed and added many trim pieces on the car. The air cleaner and brake booster are chromed, etc.
The car was used only occasionnaly from the early 1960's up to the 1990's.
The current owner knew the original owner and bought the car from the family when the owner died.
Currently, the car is still an unrestored original car, with pristine interior and a good portion of the original paint.
The slight customizations made by the original owner are still there and are part of the story.
The Photos below show her as she is now
Scanning, digitally cleaning and enhancing all these postcards,
locating, adding street and map view, and running this site costs a great deal
so won't you please consider making a donation.
Doing so is fast, safe, and easy through PayPal's online service.
Or, simpler, click on an advertisement banner every so now and then ;).