... museum displaying a large collection
of prehistoric creatures that lived on this earth
millions of years ago. It is considered to be the
most authentic and educational exhibit of its kind
in the world.
Prehistoric Forest, Route U. S. 163, 8 miles east
of Port Clinton, Ohio, on the Marblehead Peninsula.
Made by Dexter, West Nyack, N. Y.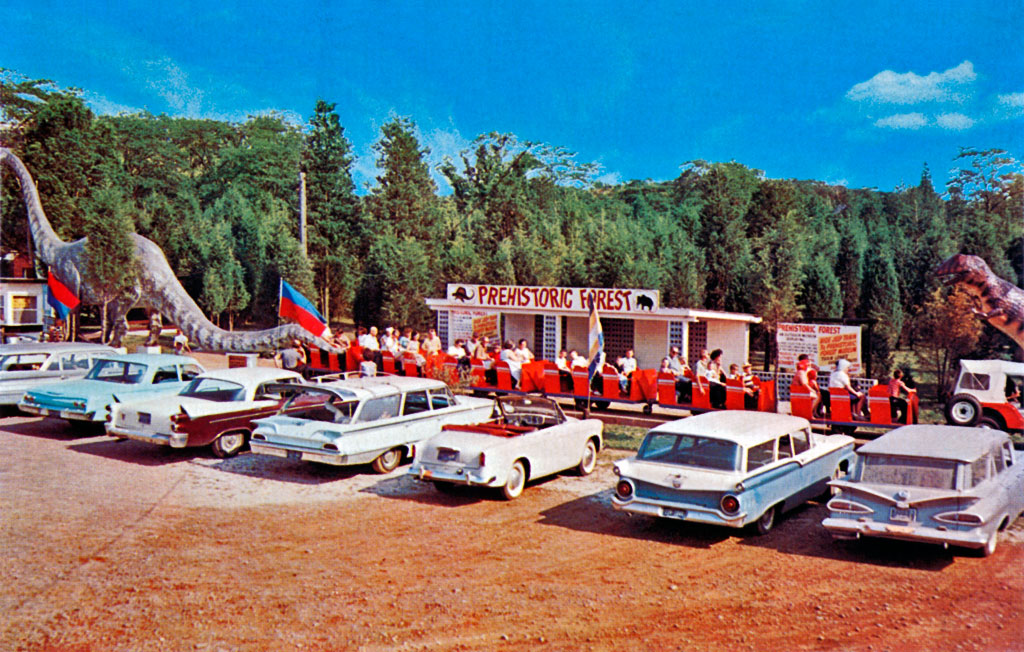 Source: USA Today, travel.usatoday.com
PORT CLINTON — Since 1953, Prehistoric Forest has been a roadside throwback to the dinosaur days when Tyrannosaurus rex
and other sharp-toothed behemoths walked the earth.
Visitors who walked through the woods at the 10-acre dinosaur attraction to find T-rex and other powerful prehistoric beasts in the early days of the park now bring their children
and grandchildren to experience it.
"We've watched people's kids grow up," said Denise Tieman, who owns Prehistoric Forest and Mystery Hill with her husband, Len. "They pop back into the gift shop and say, 'Do you remember me?'
"We do. I like that."
Customers like them will make it difficult for the Tiemans to close the park at the end of the season. After three years of consideration, the couple decided to close this fall so Len, 63, can retire.
"I've got a few years left, and my wife and I want to do some traveling," Len said.
The Tiemans plan to pack the park's two dozen or so dinosaurs into storage and close up Mystery Hill cabin, a shack that defies gravity atop a hill in the park.
"We're not interested in selling it at the moment," Len said.
Instead, the couple plans to enjoy the woods, which are filled with wildflowers, a variety of trees and birds, and spend some more time with their children and 14 grandchildren,
three of whom are working at the park this summer.
Their decision, which they announced through advertisements by marketing this year as the park's last season, has been hard for regular visitors and locals to accept.
"We've had a lot of people bringing their kids and grandkids in before it closes," Len said. "It's the memories. I'd say 30 percent of my business is people who come back every year."
He declined to release how many people visit the park each year. Business is still good, but not as good as in past decades before children became enthralled with video games and TV, he said.
Larry Fletcher, Ottawa County Visitors Bureau director, said the park's closure will affect many people who visited it over the years.
"It's one less family fun attraction we have to promote," he said. "For us, that business represents a completely unique destination. We'll have a little trouble filling that void."
For the Tiemans, operating and adding to the park has been a long-term labor of love. They decided to buy it in 1995 to give Len, who was then recovering from cancer, a fun project.
At the time, it was about to go up for sheriff's sale. The dinosaurs were in bad shape, and the brush was overgrown.
"It was pretty much destroyed," Len said. "I was mowing grass in January. It was knee-high and brown."
The Tiemans began painting and refurbishing the dinosaurs — all of which were gray — and building new ones. Tieman shapes Styrofoam into the dinosaurs' bodies, covers them with fiberglass and paints them.
His life-sized creations include the plesiosaur — a sea monster like the fabled Lake Erie Bessie that will soon sit in the water by the volcano at the front of the park — an orange dinosaur
that stands upright and has short arms and a long, thin neck, and Irene and the babies, a mother green dinosaur and several little ones around her.
"We did this for the kids, mainly," Len said. "I like to watch the kids laugh and giggle and see them happy."
Mystery Hill is a favorite of older children and teens, Denise said. The cabin is built on an angle, and staffers demonstrate on tours how water runs up hill.
She remembers walking through the cabin with a realtor before buying the park. Afterward, she felt dizzy and sick.
"I said, we have to tear that down," she said.
But when the couple's teenage boys and their friends checked it out and gave it glowing reviews, she changed her mind.
"I said, we'll see if anybody else likes it," she said. "It's been really popular"
Prehistoric Forest also has been a favorite with movie buffs. It garnered fame in the 1995 movie "Tommy Boy," which was set in Sandusky and partially filmed in Marblehead.
In one scene, Chris Farley and David Spade see a Prehistoric Forest park with a dinosaur by the sign.
The film helped boost business somewhat because the park often has customers who ask if it is the same one that appeared in the movie, Len said.
"I can't say for sure," he said. "A lot of folks come in and want to get their picture by the gate because of the movie. It's a riot."
Port Clinton native Chuck Grindstaff remembers being one of the kids who found the Mystery Hill fascinating. He went to the park at least once a summer.
"I remember the strange force you felt," he said.
Now 53, Grindstaff is sad to see the attraction close.
"It's always been there my whole life," he said. "It was a big part of my life."
The park's closure is a big loss for people who enjoy roadside attractions, said Doug Kirby, publisher of RoadsideAmerica.com, a website that offers information about unusual attractions across the country.
"We think of that one as one of the classic dinosaur attractions," he said. "It's a double loss with Mystery Hill."
Kirby remembers when his organization visited Prehistoric Forest in the late 1980s. At the time, visitors rode around the park on a tram and fired toy rifles at the dinosaurs, he said.
"That was very popular," he said.
Although those who seek unique attractions will be disappointed the park is closing, Prehistoric Forest isn't the last roadside attraction, he said. In fact, new ones are popping up around the country, he said.
"There are a lot of dinosaur parks around," he said. "Dinosaurs have been popular since the '90s after 'Jurassic Park' came out. They kind of had a nice resurgence."
Still, Kirby hopes Prehistoric Forest opens again someday.
The Tiemans' monster creations will continue, Len said. He plans to keep building dinosaurs in his workshop at the park.
"There is a market for these," he said. "I've had people ask me to make some for their yards so they can put them in their gardens."
One woman asked him to make wall-mounted dinosaur heads, like the one found in the park's gift shop, so she could add them to her children's study.
"I'm going to be doing different things," he said. "It'll be hardest next year when the park would have opened."

The park is not open to view the dinosaurs to buy the dinos you will need an appointment
419 798 5230
Partial list
Some Items will be posted on ebay
Will accept reasonable offer on all Items
At 8232 East harbor Rd, St Rt 163
Marblehead Ohio 43440
Look for big white bill Board
www.mysteryhill.com
Scanning, digitally cleaning and enhancing all these postcards,
locating, adding street and map view, and running this site costs a great deal
so won't you please consider making a donation.
Doing so is fast, safe, and easy through PayPal's online service.
Or, simpler, click on an advertisement banner every so now and then ;).