K.6–Cleveland Greyhound Terminal
Cleveland, Ohio
The beautiful new Greyhound Terminal is
one of the largest in the world. Twenty-one
loading platforms, busy 24 hours a day, provide
fast bus service to all 48 states.
Curteichcolor 3-D Natural Color Reproduction (Reg. U. S. A. Pat. Off.)
Distributed by George R. Klein News Company, Cleveland, Ohio
1DK-18-22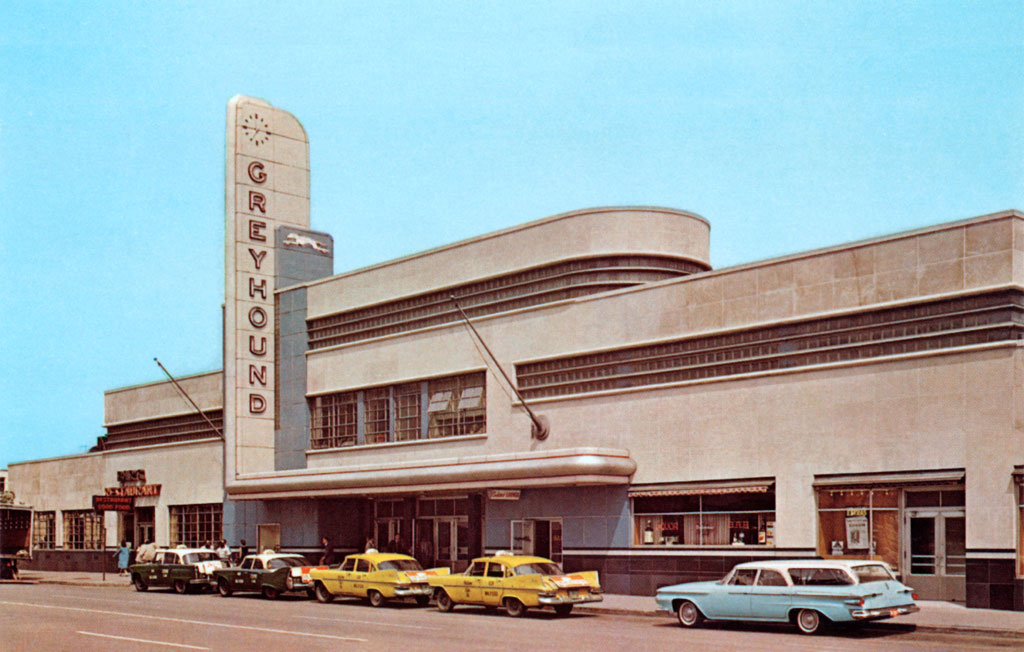 International working party for the documentation and conservation of buildings,
sites, and neighborhoods of the modern movement.
www.docomomo-us.org

USA Today, January 17th, 2008:
Greyhound revs up with a revamp, face lift
usatoday30.usatoday.com

Cleveland Greyhound Station
1465 Chester Ave
Cleveland, OH 44114
Main: (216) 781-0520
Baggage: (216) 781-0521
Greyhound Package Express: (216) 781-2464
Customer Service: (216) 781-1841
www.greyhound.com
Scanning, digitally cleaning and enhancing all these postcards,
locating, adding street and map view, and running this site costs a great deal
so won't you please consider making a donation.
Doing so is fast, safe, and easy through PayPal's online service.
Or, simpler, click on an advertisement banner every so now and then ;).