Nevada Club of Las Vegas
Fremont Street, Las Vegas, Nevada, one of
the world's most exciting streets — showing the
Nevada Club, where jackpots of over 5 million
dollars are paid each year.
Desert Supply Company, Las Vegas, Nevada
Curteichcolor 3-D Natural Color Reproduction (Reg U. S. A. Pat. Off.)
8C-K78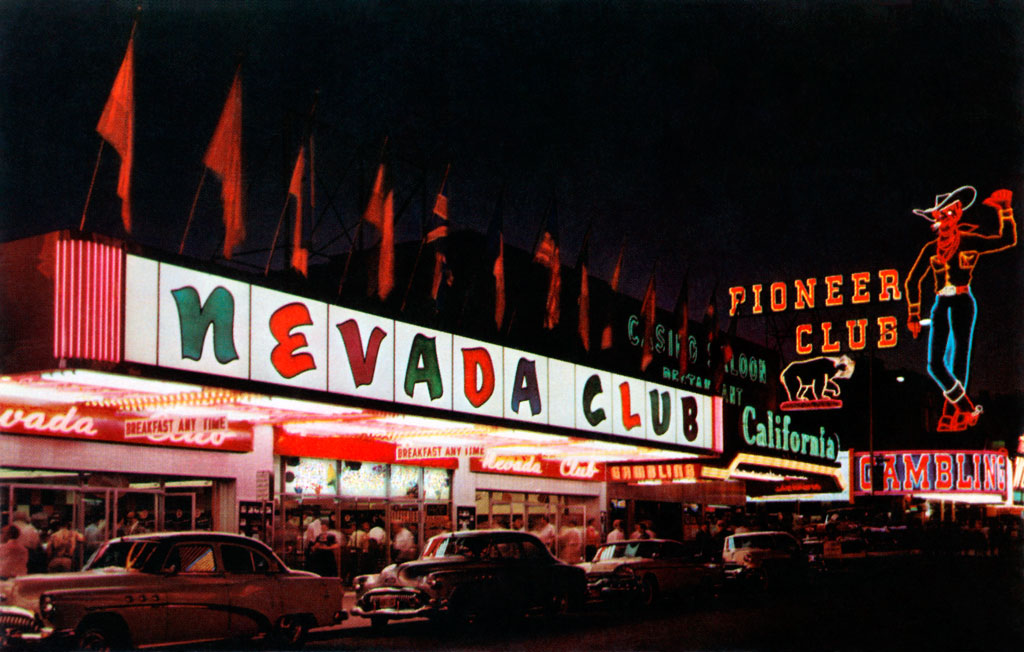 From a magazine called "This is Las Vegas" published in 1959, by the Nevada Club:
"The Nevada Club itself was established in 1952. The original club, which is
now the central portion of the Nevada Club, was opened in December 1952 and was
known then as the Fortune Club. Three years later the room to the east was added and in
1957 the former Western Union building adjoining on the west was purchased for
$300,000—more than the 1905 sales price of the entire city of Las Vegas. In July 1957
the three clubs were combined as the Nevada Club under one 75-foot marquee and the name
Fortune Club was dropped and rights to it released."

The Nevada Club and the Fortune Club were eventually combined, along with
the Western Union Building (to the right of the Fortune Club).

The Zodiac Club was one of three adjoining buildings that were owned and managed
by the Nevada Club. The Zodiac club did not have a bar, depending instead on the bar
in the Nevada Club to serve the customers. But there were 16" concrete walls between
the clubs, and the law prohibited the waitresses from walking into the street with
the drinks. While waiting for the legal and engineering problems to be resolved so
the walls could come down, holes were cut into the ceilings of the clubs and
the waitresses carried the drinks across the rooftops to serve the thirsty customers.

In 1932 Joe Morgan, who was also a part owner of the Northern Club and the Boulder
Club, opened the Nevada Club. In 1956 Bob Van Santen, Art Grant and Eunice
Mason, who owned the Fortune Club next door, purchased The Nevada Club.
By 1959 the expanded Nevada Club had over 400 employees. The employees
plus their families totaled over 1000 people, which was more than 2% of the entire
population of Las Vegas. Not bad, especially since none of the three owners came
from a casino background.
In July of 1957 the name Fortune Club was released, and a colorful 75 foot marquee
was added to the Nevada Club.
www.inoldlasvegas.com
Scanning, digitally cleaning and enhancing all these postcards,
locating, adding street and map view, and running this site costs a great deal
so won't you please consider making a donation.
Doing so is fast, safe, and easy through PayPal's online service.
Or, simpler, click on an advertisement banner every so now and then ;).