Gallup, New Mexico
Street scene looking east through the busy downtown section
of Gallup on U.S. Highway 66. Gallup is known as the
Indian Capitol of the world.
Color Photo by Bob Petley
Published by Petley Studios, Box 7248 Old Albuquerque, New Mexico
S17467-1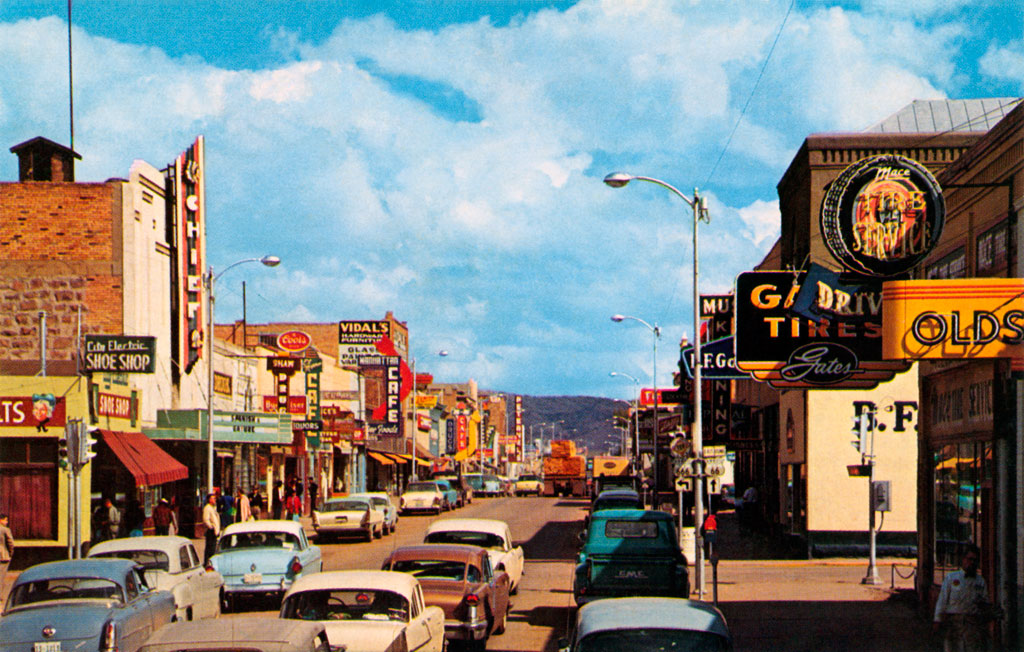 Coal Avenue, Historic U.S. Route 66, looking east at 3rd Street, in downtown Gallup, New Mexico.
City Electric Shoe Shop, Chief movie theatre, Shaw Drugs, Manhattan Cafe,
Vidal's Hardware & Furniture, an Oldsmobile dealership, Mace Tire Service,
Gates Tires, B.F. Goodrich and other businesses can be seen.
Note Route 66 highway signs on the light post.
Scanning, digitally cleaning and enhancing all these postcards,
locating, adding street and map view, and running this site costs a great deal
so won't you please consider making a donation.
Doing so is fast, safe, and easy through PayPal's online service.
Or, simpler, click on an advertisement banner every so now and then ;).