Chesmotel Lodge
Coach & Four Restaurant
Hopkinsville, Kentucky
U. S. 41A South. In City.
For 100 guests. Rooms and suites. Air conditioned.
T.V. and phones all rooms. Heated Pool. No pets.
Phone TUxedo 5-5318.
Table d'hote and a la carte. Steaks, chops, chicken,
seafood and country ham. Air conditioned. Cocktails.
Meeting room. Open 6 A. M. to 9 P. M. daily and
Sunday. Phone TUxedo 5-9668.
Recommended by Duncan Hines in
Lodging For A Night
Adventures in Good Eating
Central Adv. Service, Hopkinsville, Kentucky
C20088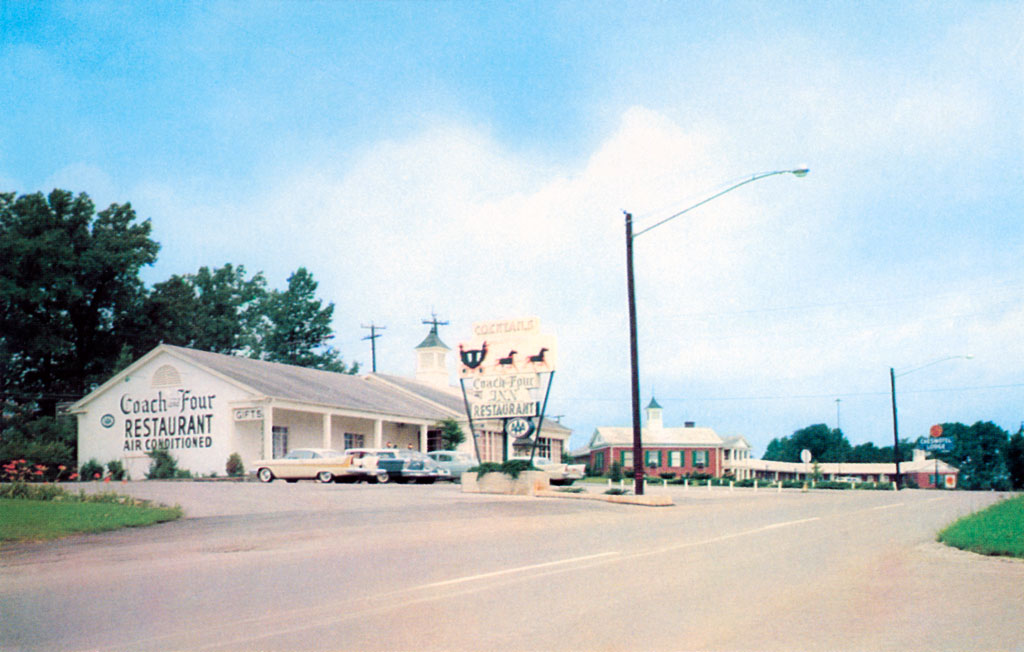 Godfather's Pizza
2701 Fort Campbell Blvd
Hopkinsville, KY 42240
(270) 887-0909

From www.hopkinsvillenostalgia.com:
The Chesmotel was located on Fort Campbell Boulevard (US-41A) at Country Club Boulevard (lane), where Taco Bell, Advance Auto Parts, and Blockbuster are today.
It was one of the largest motels in Hopkinsville. The owners of the motel also owned the Coach and Four restaurant.
In its heyday (40s through mid 70s) it was arguably the best motel to stay in and had one of the largest pools in the area. The Coach and Four was a preferred place to eat until it burned down sometimg in the mid 60s. I spent almost a month at the Chesmotel in I think 1978. It had become rather run down by then and it was demolished in I think, the mid 90s.
Scanning, digitally cleaning and enhancing all these postcards,
locating, adding street and map view, and running this site costs a great deal
so won't you please consider making a donation.
Doing so is fast, safe, and easy through PayPal's online service.
Or, simpler, click on an advertisement banner every so now and then ;).