Pikes Peak Avenue
In Downtown Colorado Springs, Colo.
Looking west with Pikes Peak in the background.
Published by Noble Postcards, Colorado Springs, Colorado
C—25700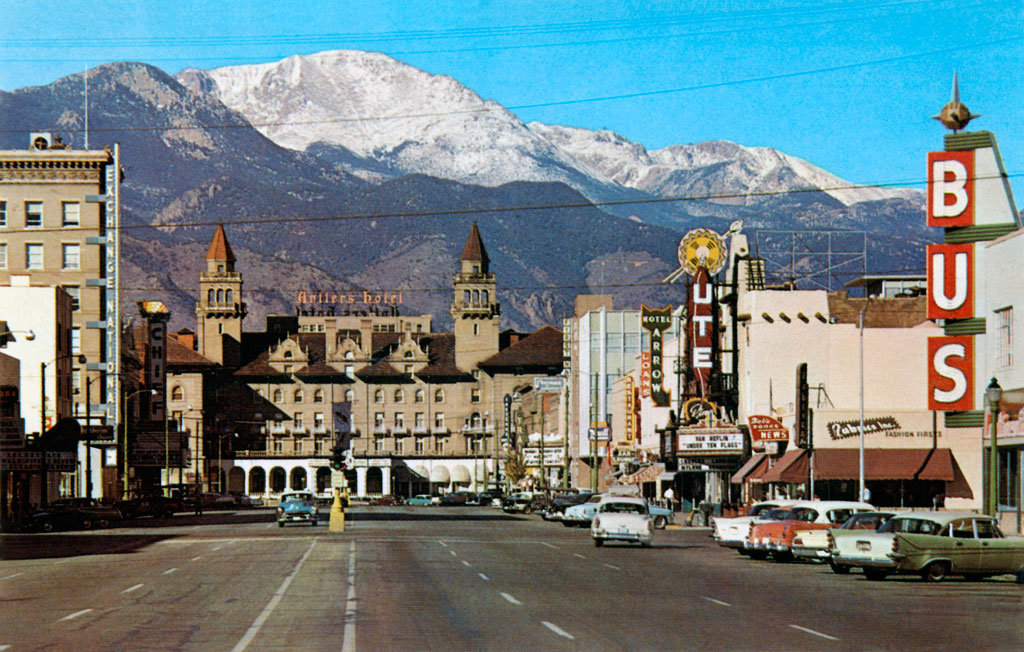 Colorado Springs was founded in August 1871 by General William Palmer, with the intention of creating a high quality resort community, and was soon nicknamed "Little London" because of the many English tourists who came. Nearby Pikes Peak and the Garden of the Gods made the city's location a natural choice.
Within two years his flagship resort the Antlers Hotel opened, welcoming U.S. and international travelers as well as health-savvy individuals seeking the high altitude and dry climate, and Palmer's visions of a thriving, quality resort town were coming true. Soon after, he founded the Denver & Rio Grande Railroad, a critical regional railroad. He maintained his presence in the city's early days by making many grants or sales of land to civic institutions. Palmer and his wife saw Colorado Springs develop into one of the most popular travel destinations in the late 1800s United States.
Historic Antler Hotel
Scanning, digitally cleaning and enhancing all these postcards,
locating, adding street and map view, and running this site costs a great deal
so won't you please consider making a donation.
Doing so is fast, safe, and easy through PayPal's online service.
Or, simpler, click on an advertisement banner every so now and then ;).