Law's Oak Glen Coffee Shop
Oak Glen Road
Oak Glen, Yucaipa, California
Nestling in the center of scenic mile high
apple growing country this popular shop caters
to thousands of visitors who annually come
up to buy apples and pies directly from the
growers. The Packing shed is at the ground
level with the new coffee shop above. Theresa
Law's pies are served hot from the oven.
Photography by Dave Rubinoff
H2852
Published and Distributed by Columbia
Columbia Wholesale Supply, 7609 Santa Monica Blvd., Hollywood 46, Calif.
C-13736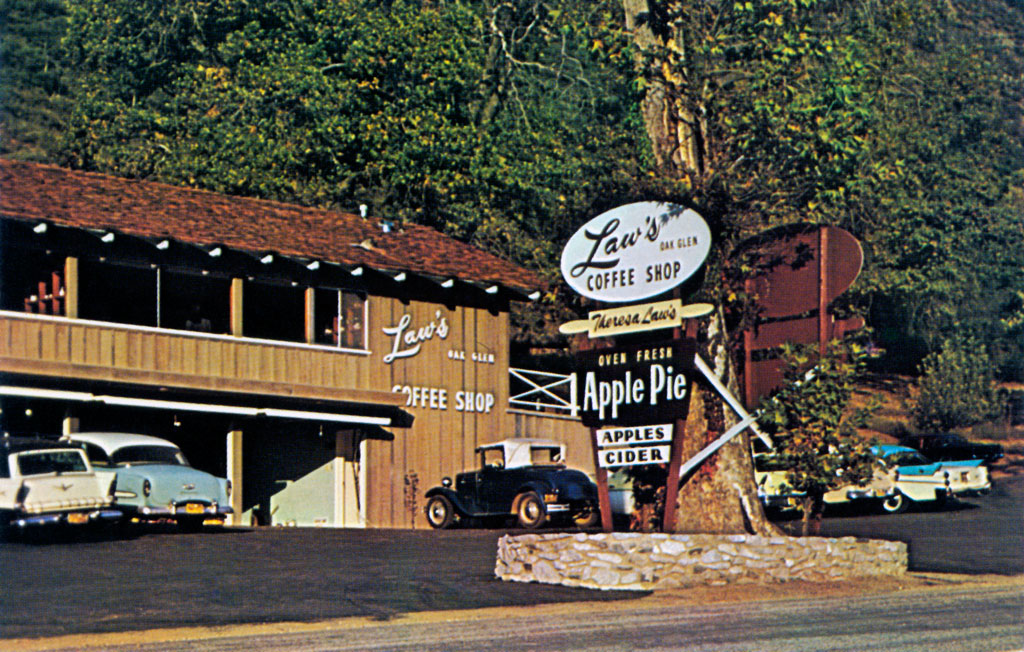 Law's Oak Glen Coffee Shop
38392 Oak Glen Rd
Yucaipa CA 92399
(909) 797-1642

Oak Glen Apple Growers' Association
www.oakglen.net
Scanning, digitally cleaning and enhancing all these postcards,
locating, adding street and map view, and running this site costs a great deal
so won't you please consider making a donation.
Doing so is fast, safe, and easy through PayPal's online service.
Or, simpler, click on an advertisement banner every so now and then ;).