The Bun Boy Baker, California
This new and pitoresque restaurant on Highway 91 is one
of the most popular eating places between San Bernardino
and Las Vegas. It is owned and operated by the Failings who
have been catering to tourists in this area for many years.
Ferris H. Scott, Santa Ana, Calif.
Western Resort Publications, 1320 N. Broadway, Santa Ana, Calif.
S-34227L2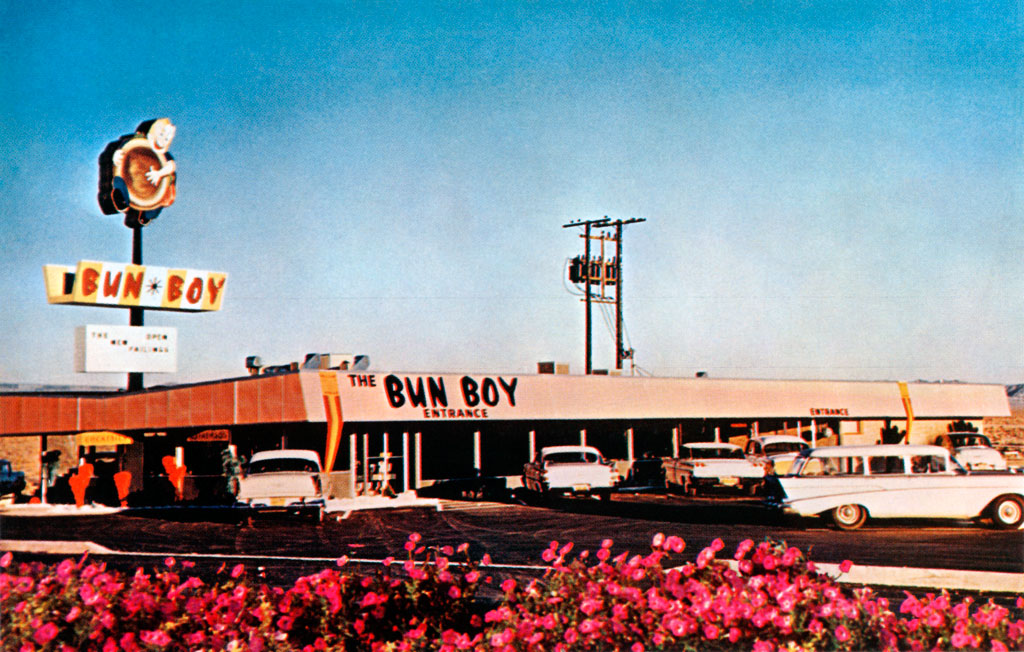 Bun Boy restaurant went out-of-business after several decades of delighting motorists.
The mini-mart at the base of the World's Tallest Thermometer was shuttered
for a minor violation according to a sign posted on the glass door.
A plaque for the thermometer has been removed.
Country Store (76 gas station) and Bun Boy motel is still there with the same name.

Now is Big Boy Restaurant
72155 Baker Boulevard
Baker, CA 92309
(760) 733-4660
www.bigboy.com


Scanning, digitally cleaning and enhancing all these postcards,
locating, adding street and map view, and running this site costs a great deal
so won't you please consider making a donation.
Doing so is fast, safe, and easy through PayPal's online service.
Or, simpler, click on an advertisement banner every so now and then ;).