Malbis Restaurant, the most modern, new restaurant
in the Mobile area. Completely air conditioned. Located
on Highway U. S. 90, 12 miles east of Mobile Alabama.
Directly adjacent to Malbis Hotel Courts.
This fine restaurant is family owned and operated.
Counter service, a coffee shop and a dining room are
available for either hasty service to the hurried traveler,
or to private parties searching for excellent food, fine
pastries prepared for every meal. Open daily 6 A.M. to
midnight. Close 10 P.M. Sundays only. Telephone
HE 2-2735.
Pub. by Thigpen Photography & Art Service, 163 State St., Mobile, Ala.
Made by Dexter, West Nyack, N. Y.
25163-B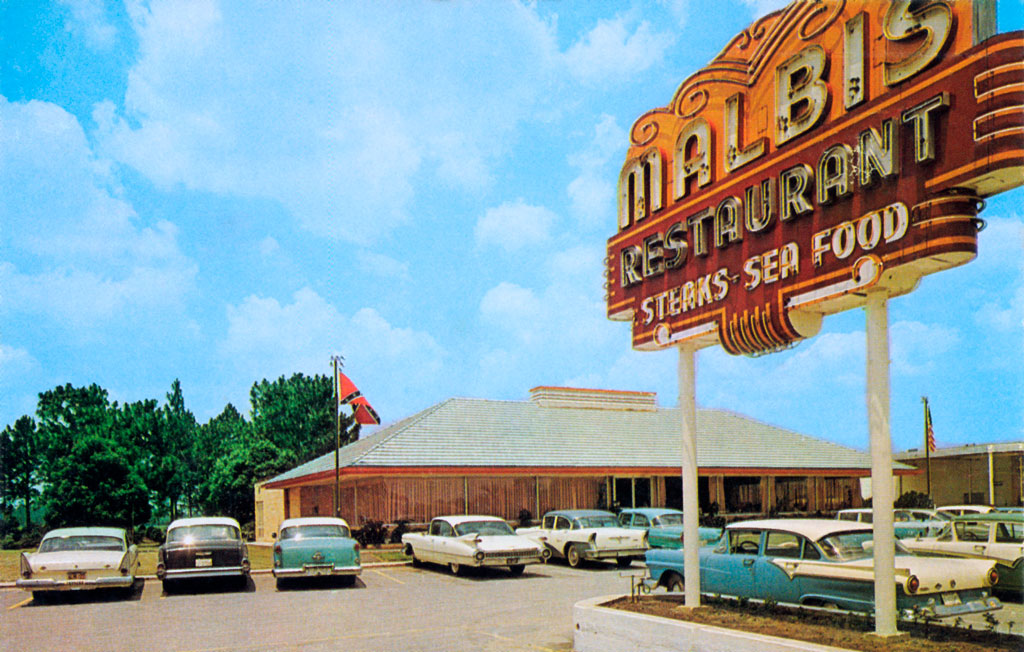 This building is no longer in existence. It was razed to make room for Lowe's.
Malbis Restaurant shortly before demolition: www.flickr.com
Scanning, digitally cleaning and enhancing all these postcards,
locating, adding street and map view, and running this site costs a great deal
so won't you please consider making a donation.
Doing so is fast, safe, and easy through PayPal's online service.
Or, simpler, click on an advertisement banner every so now and then ;).