Fort Macleod, Alberta, Canada
The first Western headquarters of the famous North West
Mounted Police was established at historic Fort Macleod
in 1874. Our picture shows a view of the main street
looking east.
Dist. by General News Co. Ltd., Lethbridge, Alberta
Traveltime Product. Made in Vancouver, Canada, by Grant-Mann Lithographers Ltd.
S-1090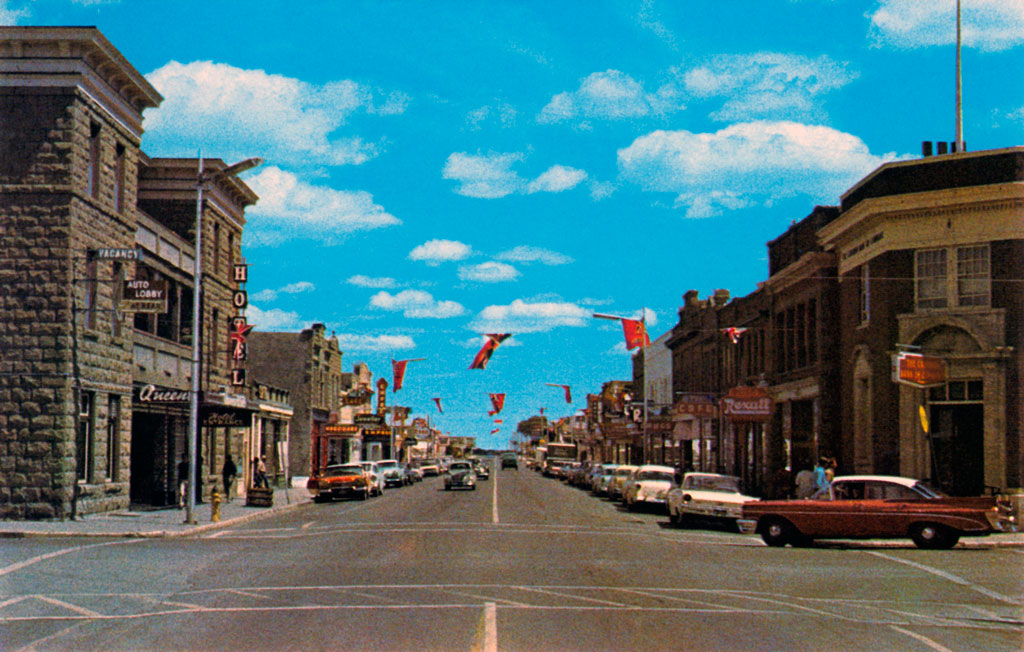 Historic Main Street (Colonel Macleod Boulevard)
Step into the past, visit Main Street Fort Macleod, a designated Provincial Historic Area, named Colonel Macleod Boulevard.
Fort Macleod was the headquarters of the North West Mounted Police in Western Canada, established in 1874, on an island two miles downriver from the present townsite. Flooding problems at this location necessitated a move to higher ground in 1884.

Many of the town's historic buildings and homes are still in use today. Enjoy a sunny afternoon strolling the streets, view the filming locations of the movies Brokeback Mountain and Passchendaele, learn about the history of the Queen's Hotel (1903), the Reach Block (1907), Holy Cross Catholic Church (1898) and many more...


Guided Tours run twice daily throughout July and August, meeting at the Devonian Walkway nest to the Empress Theatre. For a tour schedule visit The Fort - Museum of the North West Mounted Police.
Queen's Hotel & Bar (1903)
207 24 StreetVFort MacLeod, AB T0L 0Z0
(403) 553-4343
www.fortmacleod.com
Scanning, digitally cleaning and enhancing all these postcards,
locating, adding street and map view, and running this site costs a great deal
so won't you please consider making a donation.
Doing so is fast, safe, and easy through PayPal's online service.
Or, simpler, click on an advertisement banner every so now and then ;).